Philosophy
Our wish is to create a game that gives the player a unique experience that feels like a fresh breath of air from current games in the market. We are striving for innovation in gameplay and story. The feeling and mood of the game is poetic and serene, unfolding like a beautiful piece of music.
Games overview
The game's world view is that everything has its purpose. Our destiny has been sealed. Everything plays a part in forming the bigger picture that is the cycle of life. Even the smallest pollen grain is part of Nature's being and has its purpose. The game is about them. They have dreams that inform them of the role they have to play in the bigger picture to fulfil their destiny.
What is the game?
Pollen Sonata is an adventure-simulation game. Gameplay involves flying from flower to flower in a micro world by adjusting a pollen's form in response to the wind conditions. Folding and changing the form lets the pollen navigate in both the air, by floating and gliding, and on the flowers by rolling and jumping.
Where does the game take place?
The game world is made up of the micro worlds inhabitated by the pollens. Flower beds and green parks are just the beginning.
What do I control?
The player controls a small pollen to fly from flower to flower. He or she has to gather other pollens and command them to fly. Whatever form your pollen has taken, affects the form and actions of the other pollens as well.
Pollen Team
Game Director
Alfred Nguyen
Game Designer
Product Manager
Lead Visual Designer
Lena Elisabeth Joyce Marguc
Audio Designer and Composer
Lead Programmer
Programmer
Øystein Gammersvik

Jonas Lindberg Frellesen
Lead Animator
Animator
Nicole Gallagher
Team Picture
We are prototyping the Wii controls - rolling might need to be changed :-)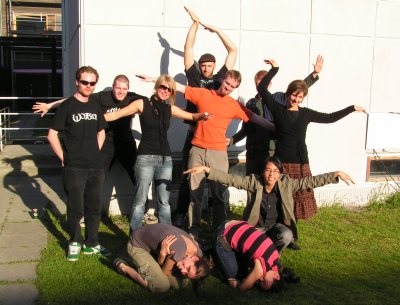 Presentation
Our first presenation at ITU atrium. Some played for so long that only few people got to try it.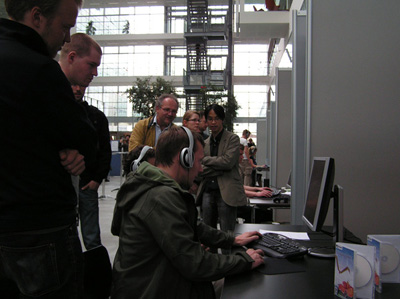 Covers
The prototype was finished around 2:30 on Monday 28 May 2007. This is the original cover: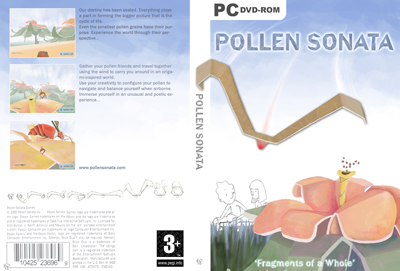 Lena did a Wii cover as well. Of course no Wii game was created, but it kind of shows why we wanted it on the Wii: